Francis Deng is the United Nations Special Adviser for the Prevention of Genocide and Mass Atrocities:
H.E. Salva Kiir Mayardit
President of Southern Sudan
Juba, Southern Sudan
Dear Mr. President,
I would like, in my personal capacity as a Sudanese, to congratulate you and the people of Southern Sudan on the successful conclusion of the self-determination referendum.  It is now widely acknowledged that the process has been conducted positively and credibly, and the result is expected to overwhelmingly favor independence.   Through you, I would also like to congratulate the Sudan People's Liberation Movement and the Government of Southern Sudan for successfully leading our people to the objective for which they have struggled and sacrificed since the independence of Sudan.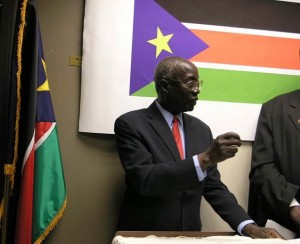 Dr. Francis Deng
As you know, I have been a strong supporter of the vision of the SPLM for a new Sudan of full equality for all citizens.  However, the Comprehensive Peace Agreement was a compromise based on the recognition that the vision of the New Sudan could not be achieved through armed liberation struggle alone.  Since unity could not be made attractive for the people of the South under the current system, Southern independence was the predictable and just outcome of the self-determination referendum. In fact, it is difficult to see how Southerners could be expected to vote for unity under the present system in which they would continue to be treated as second-class citizens.
I have no doubt that the vision of New Sudan–of full equality of all racial, ethnic and cultural groups–has inspired many throughout the country and will continue to be pursued in the North through the democratic process.  Should that be achieved, perhaps that will create a basis for reconsidering the relationship between the North and the South.  As I wrote in my recently published book, Sudan at the Brink, unity and separation are varying degrees of on-going relationships which can be strengthened or weakened depending on the will of the people and their leaders.  For now, however, the exercise of self-determination has given the people of the South the freedom to pursue equality, integrity and dignity.  For this achievement all Southerners should be exceedingly happy and proud.
The challenge now is for an independent South to realize the ideals of good governance: constructive management of diversity on the basis of full equality for all ethnic groups; promotion of inclusive constitutional democracy; respect for all human rights and fundamental freedoms; pursuit of fair distribution of resources, public services, employment opportunities; accountable financial management; and consolidation of peace through equitable socio-economic development.
May God bless you, your government, the people of Southern Sudan and all those who have supported your pursuit of these ideals and objectives.
Fraternally yours,
Francis Mading Deng