Juba — Riek Machar, the Vice President of the emerging new independent state of South Sudan said the region has already prepared a "roadmap" for post-referendum governance, dismissing fears of political instability after independence.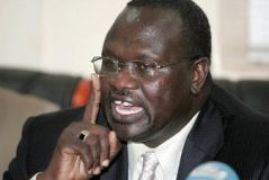 Nearly four million South Sudanese casted their votes last week in a referendum to decide if they want to break away from the rest of Sudan and form their own independent country or remain united after 55 years of liberation struggle, that started on 18 August 1955 in the town of Torit town.
Preliminary results have so far indicated the overwhelming vote in favour of secession, which will lead to declaration of independence in July after confirmation by the referendum commission of final results in February.
However, general fears are being expressed about what the political situation of the new state will be after it gains independence. Some observers call it a failed state in waiting that will be marred by political instability and ethnic tensions. Currently, the SPLM is the ruling party and there are dozens of other political parties in active opposition.
In a meeting in Juba with a UN delegation led by the chairman of the UN Panel to Sudan and former President of Tanzania, Benjamin Mkapa, Machar explaiend that the South would emerge politically stable. He said the region has already prepared and was committed to a post-referendum governance roadmap.
Machar equally assured the top Chinese diplomat in Juba, Zhu Zhibin, on 20 January of the future stability of the South. Last week the leader of the United Democratic Front (UDF), Peter A. Sule, in his BBC interview revealed what he called ethnic domination in the present government and marginalization of some other political parties.
The Vice President said that the region would immediately begin to implement the resolutions and recommendations of the roadmap after declaration of the final results of the referendum, in order to avoid such political tensions. In in October 2010, all the South Sudanese political parties held a conference in the regional capital, Juba, UDF included, and agreed on the roadmap to guide the future governance of the region after the referendum.