From Reuters Africa:
SHARM EL-SHEIKH, Egypt (Reuters) – Sudan's President Omar Hassan al Bashir, who risks losing the oil-producing south after an independence referendum, called on creditors to cancel Sudan's debts at an Arab economic summit on Wednesday.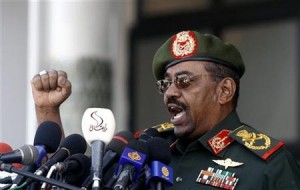 "Sudan has just emerged from conflict and it is clear that it deserves preferential treatment from creditor states," Bashir told the summit at the Sharm el-Sheikh resort.
"We look forward to have this summit offer a clear initiative to cancel Sudan's debts … for peace and rebuilding it," he said.
A 2005 peace deal ended decades of civl war between the north and oil-producing south and the country remains mired in a deep economic crisis.
The government has spent heavily on defence and been forced to increase imports to cover a fall in local production. It faces foreign exchange shortages, rising inflation and a weakening Sudanese pound.
It announced emergency measures this month to redress its budget deficit, including lower subsidies for petroleum products and hikes in the price of sugar.
Bashir's debt relief plea comes at a politically sensitive time as his government awaits the outcome of a recent self-determination referendum in the south due by the end of this month.